It looks like palmOne is finally pulling the plug on the Palm.net wireless internet service for Palm VII, VIIx, and i705 models. In an online letter dated 2004-07-30, it was announced that Palm.net is "ceasing operations" as of 2004-08-31.
This is a sad but inevitable event in the "Palm economy". I worked at Palm during this entire time and, in spite of the development problems, was really excited about the possibilities of handheld internet access. In fact, many of the "PDA-friendly" websites on my list were discovered through those early Palm Query Applications (PQAs).
During the rapid growth at Palm, wireless was touted as the Next Big Thing and lots of resources were brought in for these projects, including the entire Palm.net infrastructure. Unfortunately, like several other projects at that time (e.g., "Enterprise"), the financial results never materialized. I'm kind of surprised that Palm.net stayed online as long as it did; I suppose having some number of users still paying $40/month helped pay the bills.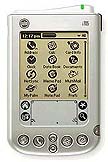 [Via PalmInfocenter]