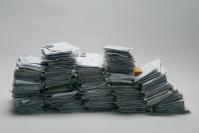 This morning, the front page of the San Jose Mercury News included this disturbing story: Unopened rebate requests found in San Jose dumpster. Tech writer Dean Takahashi writes:
… I am staring at more than 1,300 rebate requests sent to Vastech on Bonaventura Drive in San Jose. The envelopes were tossed – unopened – into a garbage dumpster near Vastech. I have two boxes of envelopes that were thrown out without being processed. In all of my years of reporting, I have never encountered such outrageous behavior against consumers.
The proliferation of rebates clearly favors retailers and manufacturers, with consumers on the losing end. Rebate offers are very popular at Fry's Electronics and, as Dean mentions in the article, they don't want to be the only retailer to stop using them. My advice to friends shopping at Fry's is to avoid the rebates entirely if they can and if not, limit it to name-brand companies.