Previously I've reported on the top mobile websites as determined by outgoing clicks from Cantoni.mobi, my collection of websites dedicated for small-screen devices. Today I ran the numbers again to look at all of 2008.
First, a quick summary of the methodology: I'm using a MyBlogLog widget to track all incoming and outgoing links from the website. For this kind of analysis, I simply download from MyBlogLog the detailed report for the whole year of 2008. Note that because the widget requires JavaScript, mobiles browsers without JavaScript enabled won't be counted. But, the comparison of outgoing links should still be valid, even if the total numbers are under counted somewhat.
Without further delay, here are the results for the most popular mobile websites of 2008 (as determined by the readers of Cantoni.mobi). I'm showing the top 50 results with total number of clicks shown in parenthesis.
Overall there were about 420,000 clicks on about 320 mobile links. Here's a chart showing the total click distribution: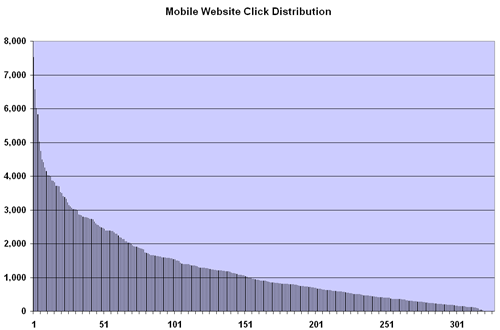 For those that might be interested, I'm also posting the full set of data in CSV format (CantoniMobileClicks2008.csv). If you do anything further with the data, please let me know.