It's that time of year again — time to start filling out those NCAA brackets. We're running a small family & friends pool through CBS Sportsline this year. If you know me and I haven't invited you yet, just send me an e-mail.
Adrian Holovaty has a review of web NCAA bracket interfaces that is pretty interesting. His analysis didn't cover the CBS web interface, so I've included a screenshot below. Based on Adrian's analysis, this looks like it's the same interface as that for SI.com.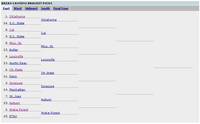 Update 3/21/03: A word of caution…don't use the CBS Sportsline.com bracket manager. Getting people signed up is a real challenge; out of about 20 invites, only 8 people joined our pool, mostly due to the impossibility of actually joining. Next year: Yahoo or perhaps ESPN.