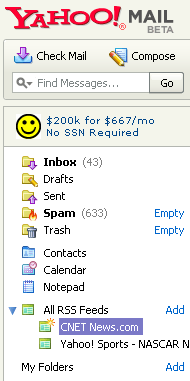 Today the Yahoo! Mail Beta software is being opened up for general release (previously it had been in a limited beta). It's still "beta" software, but I know they wanted to make sure it was reliable and scalable before opening up to the general user base. (Internally, we've been able to run it for about 6 months.)
This release has been getting really good reviews. There's a lot of AJAX magic going on that makes the UI look and act very similar to a desktop application. People used to running Outlook will probably like this interface as well. I like some of the nice integrations like the RSS feed reader, calendar status bar, and quick add event.
Yahoo! Mail users can now sign up to switch to the new Beta. You can also switch back to "classic" mail at anytime.
Some additional coverage:
* Read/Write Web – review and interview with Ethan Diamond from Yahoo
* Yahoo! Mail Beta Screencast – also with Ethan
* CNet – "It doesn't take very much time with it to come to a simple conclusion: It is a fantastic email application."
* Yahoo! Mail Blog