Tonight we launched Yahoo! Messenger 7.5 Beta, delivering phone-in and phone-out support to PSTN (public switched telephone network, or "regular phones"). For rates that are quite low (inside the US, 1¢ per minute), you can call from Yahoo! Messenger to any phone in the world ("phone out"). You can also buy a live phone number (from anywhere in the world) that will ring on your Messenger client ("phone in"). There is also free buy viagra soft voice mail.
In an unusual twist, we are actually only launching the international clients today. For now, users inside the United States will not be able to get this client. Elsewhere in the world, users can sign up from any of our international sites that we launched this evening: Germany Spain France Italy Hong Kong Singapore.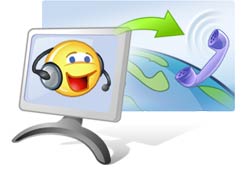 Update 2006-03-21: An updated Beta was just launched, including service for the US market (English & Spanish)!