My friend Jeff Cable was one of the early adopters of the Nest thermostat. At the time we talked a lot about the obvious next step of supporting home sprinkler/irrigation controls. Especially here in California (where we are in a pretty serious drought), having better control over irrigation (not to mention the remote access) seems like the logical next step.
Rather than waiting around for Nest, I just bought and installed an OpenSprinkler. OpenSprinkler started out as a hobby kit for makers and they still sell it a variety of ways, from kits to completed units. The software is open source as well.
There is also the possibility that if OpenSprinkler can get certified by the EPA WaterSense program, that rebates from water agencies could be possible (similar to low-flow toilets, energy-saving water heaters, etc.). Getting certified is still on the to-do list according to this OpenSprinkler update from Feb 2015.
Hardware
Replacing my old Lawn Genie controller with the OpenSprinkler controller was really simple. All the cabling is compatible (assuming you have the standard 24 VAC controllers), so it's just a matter of reconnecting everything to the OpenSprinkler. You'll also need to connect to your home network with an Ethernet cable. (The OpenSprinkler itself does not have Wi-Fi.)
Here's a comparison of the old Lawn Genie and the new OpenSprinkler: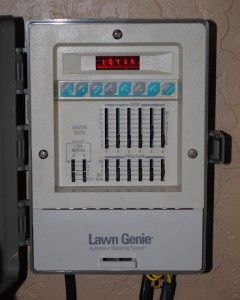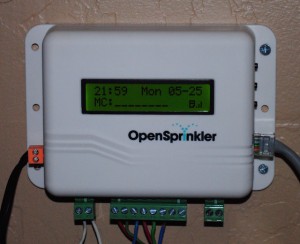 Software
The more interesting part is the software which is easy to set up from a web browser. You can give your zones nice names like "front lawn" or "back roses" so you don't have to remember zone numbers. Programming the schedule is pretty straightforward as well. If you attach a rain sensor, the OpenSprinkler can also operate in a smart weather mode where it decreases the amount of watering based on local rain or weather forecasts from Weather Underground.
Once you have the software configured, I recommend downloading one of the OpenSprinkler mobile apps so you can control everything from around the house (via Wi-Fi). For me this was one of the best use cases: while I'm out adjusting sprinklers I can remotely turn each zone on or off. (I know, the exciting life of a homeowner!)
With all of the above you'll have mobile access, but only on your home wireless network. You can also configure your home network to allow access externally from anywhere (depending on your comfort level for setting this up and exposing to the internet in general). Now you can have remote access just like you can for your Nest thermostat :)